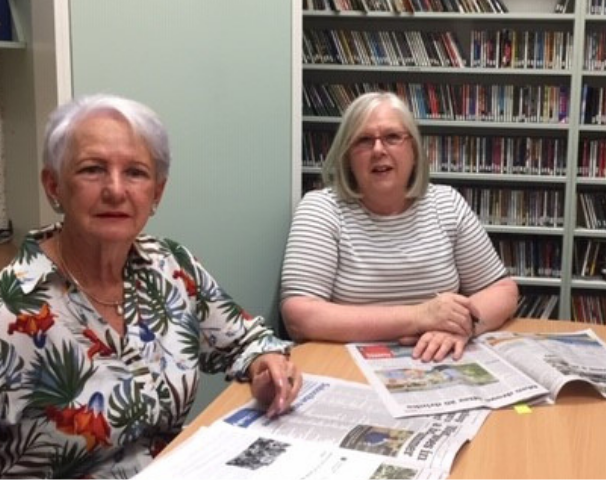 2MCE boasts one of Australia's longest running Radio Reading programs.
The "Talking Newspapers" program was started in 1978 by John Martin (2MCE's first Station Manager) to serve people with a print disability in the NSW areas of Bathurst, Orange, Blayney, Molong and surrounding districts.
Station Manager, Lisa McLean, says "Radio Reading was my
first introduction to 2MCE, and was the 'gateway program' into the joys of
community radio.
We read from The Western Advocate, and the Central Western Daily for local community members with low vision. When appropriate, we also read information about Charles Sturt University, where we're based. CSU is a big part of the community and often news about CSU students, academics or research, is not available through other sources."
40+ years after it began, Talking Newspapers airs each weekday at noon, and is still powered by a dedicated group of community volunteers.
Radio reading volunteers Cathy Segeart and Sharon Williams were happy to share their experiences.
Was radio reading
your first experience in radio?
For both readers, yes, this was the first time being in
radio.
Did you need any
specific skills to do it?
No specific skills were needed, but we did get some quick
training in operating the panel. Kathy said "This was somewhat nerve-racking at
first, but more experience helps which is just a matter of time"
What did it teach
you?
Kathy: Better reading skills and to pay attention to enunciation
and grammar – where to hesitate – where to anticipate what the community might
like to hear.
Sharon: Better oral reading skills. It's different than
reading to yourself… to someone else, that's a different skill. We've learnt
that our on-air relationship is important. Listeners are keen to hear a
friendly relationship and rapport between us. This allows us to develop a
relationship with the audience. We feel
we are not here to 'just read' – we are part of the community and it's
important that the community hear its own voices reading. This is especially
when there's deaths in the community – it's hearing our own community members
are reading these death notices.
How long did/have you
volunteered with (your station)?
Sharon: 3 years almost; Kathy: 5 years
How did that
experience whet your appetite for radio?
Sharon: In the car I listen to the radio a lot. I do feel
that when I'm listening to community radio they are my friends and I know them.
Kathy: I have always been interested in radio. I was brought
up in the country before tv and radio was very important. So, I tend to listen
to radio than watch tv – I've always had that interest.
What are you doing
today?
Kathy; It's a commitment that I enjoy and probably different
because we live out of town. I come into Bathurst on a Tuesday to read and do
all the things in town – library, hair shopping, lunch –Tuesday is my Bathurst
day.
Sharon: It's a commitment but it's what Tuesday is. I'll
also help out on another day if I'm around – it's not a hard commitment!
Do you feel a
connection with your listeners?
Kathy: I hope they
have a connection with me as I try to imagine what they would like to hear,
like reading sports articles and thinking young local kids might get a thrill hearing
about themselves on air
Sharon – I try to balance the articles I read but I like to
give women a lot of a boost especially around sport.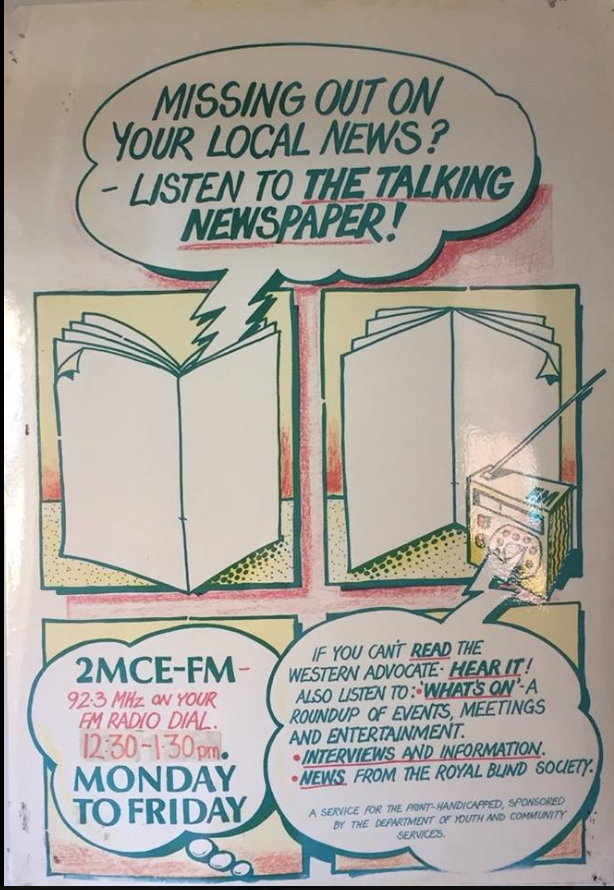 Tell us what you love
about being a Radio Reading volunteer, and being a part of your station…
Kathy: I enjoy
meeting other volunteers and audience members, and I enjoy providing community
information. Whenever I hear something
on the news about CSU (we're located on Charles Sturt University Bathurst
campus), I like to think I belong there.
Sharon; It's a nice connection – I like going to the 2MCE
Christmas party and to be able to meet other people who are doing the same
thing and want to get together and learn from others. I've learned a lot from
other volunteers. When I first started volunteering, I listened to them read.
One of the things that struck me was having to think about what other people
want to hear.
Considering what other people need to hear, whether it interests you or not – that's really important to the people who are listening.
I enjoy making a difference by reading to people in the
community about important things.